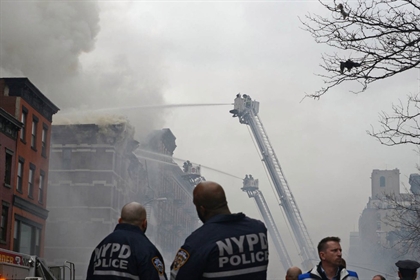 Yesterday, the East Village had a horrific event. A gas explosion in a building on 2nd Ave. caused a massive fire in four buildings, the total collapse of two of them and the potential for a third to collapse. Nineteen people were injured, four critically, and four of the injured were firefighters. 121 Second Ave. was the epicenter, with the suspected cause being work on the gas line and gas meters in the building by a private contractor. Apparantly Con Ed had checked on the work just a couple of hours before and found it to be substandard and in violation.
I know the block well. My very first listing 8 years ago was directly across the street. I remember having great fries at Pomme Frites, the building where it started that exists no more. I greatly admire the architecturally beautiful library which is so close. STOMP plays across the street. The original Second Ave Deli used to be nearby. Second Avenue's claim to fame is that it was the home to Yiddish theater at its peak in NYC.
We've got to ask how this can happen. An investigation will reveal the source. What we do know is that parts of the city's infrastructure, including the gas and water lines that lie beneath the pavement, particularly in old and historic neighborhoods is aging and fragile. Contractors need considerable expertise in handling such delicate tasks as handling these things. Oversight is critical. Error can mean tragedy.